Gravity and Alignment
By Bill Lancaster
Proper skin alignment is essential for a top-quality mount. The anatomy of the skin, hair patterns, change of color and the texture reflects the anatomy and musculature of the form, down the minute facial features.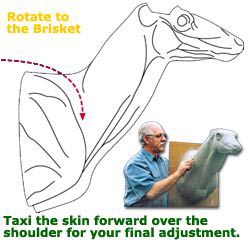 Gravity, and the process of applying the skin, will move the alignment, and this can be a cause of drumming in the finished mount. When you are sewing down the neck and you reach the backboard, do not trim the cape yet. Pull the skin up and forward on the neck – you will see that your sewing job isn't done yet!
By rotating the skin forward over the shoulders, you can gain more skin into the sternum and armpit areas. You will find that you may have to sew 1-1/2″ to 2-1/2″ more for final adjustment.
The head also needs to have the skin lifted and brought forward into position. The sear skin can be taxied toward the tip.
The ears, head and neck are all cone shaped. A small amount of skin taxied from a large area to a smaller area will give you more skin in width.

Keeping all of this information of anatomy, hair patterns, change of color, texture, and gravity will help you be more successful in a quality mount.
Bill Lancaster is an award-winning master taxidermist and sculptor with Research Mannikins